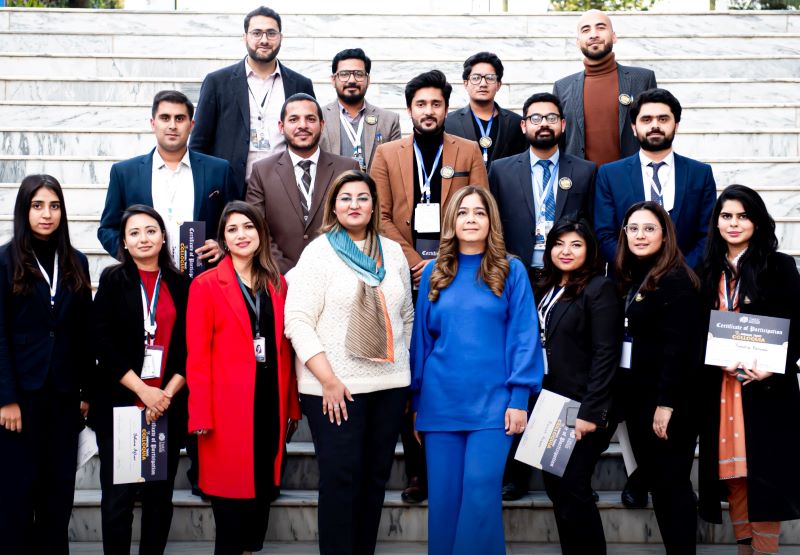 ISLAMABAD, Feb 02 (ABC): The Millennium Universal Colleges TMUC, Pakistan hosted a two days Annual Colloquia 2023 on the theme 'Inspire-Aspire-Attain: Redefining Quality Education' at TMUC Islamabad says a press release.
Heads of Institutes, Academic Heads, Programme Coordinators, Counsellors, and support staff from all over the TMUC campuses nationwide attended this 7th Annual Colloquia. TMUC is Pakistan's top International University, provides innovative undergraduate, postgraduate, and professional education as a pioneer of Transnational Education. TMUC holds the Colloquia every year with focus on promoting Quality Education (SDG 4), and ensuring inclusive and equitable quality education, promoting lifelong learning opportunities for all.
The Higher Education sector in Pakistan, continues to set new standards having braved the combined pressures of the pandemic and global inflation. Dr. Faisal Mushtaq TI, Founder and CEO of The Millennium Education Group, vision reminds all the stakeholders that our first responsibility is to our students. Through open access to quality education and a holistic campus life, TMUC leads from the front, to inspire our students, so that they may aspire for greater success, and attain good outcomes at graduate and post-graduate levels. This year, the 7th Annual Colloquia brought over a 100 TNE professionals to conglomerate to share best practices and put in place action plans that will assure TMUC students and the wider community of our commitment to quality and academic standards.
Addressing the delegates, Ms. Rabbea Irfan Director TMUC, talked about TMUC as a TNE Case study and TMUC as a Leaders of Transnational Education in Pakistan and discussed Higher Education Commission expectations and compliance. Ms. Amna Salik, Director Quality Assurance & Academic Compliance, discussed TMUC's programme development and growth working in synergy with other departments and support services. Her session focused on promoting academic excellence for all, recognizing the fact that quality and equality are mutually reinforcing. She discussed in detail TMUC's approach to ensure quality and standards through a secure monitoring, recording, and reporting mechanism. The productive Colloquia also had a power packed address by Dr. Huma Baqai (Rector Millennium Institute of Technology and Entrepreneurship MiTE, a chartered University in Karachi) on the impact of transformational leadership and influencing change. Dr. Huma Baqai through her powerful talk encouraged, and motivated employees to innovate and create the change necessary to shape the future.
The Colloquia also featured gift prizes for delegates along with a bonfire for outstation teams, to help unwind. The team building activities instilled a strong sense of cohesion among all delegates. The two-day intensive capacity building sessions and reflective dialogue helped each programme, and campus leadership, to redefine and put in place secure plans, articulate understanding of the requirements set by the local regulator, HEC, and international partner universities; engage in discussions and commit to meeting both internal and academic compliance needs as set by the Quality Assurance & Academic Compliance.
The two days colloquia provided all delegates to engage in self-evaluation and self-reflection activities, provided new strategies, techniques, or knowledge to deepen their capacity to serve their students and the wider community. It also provided pathways to plan and implement workable action plans and demonstrate TMUC Millennial Values based on the United Nations' four pillars of education. The delegates parted as wiser, better informed, and compassionate TNE practitioners.